TLauncher Legacy Download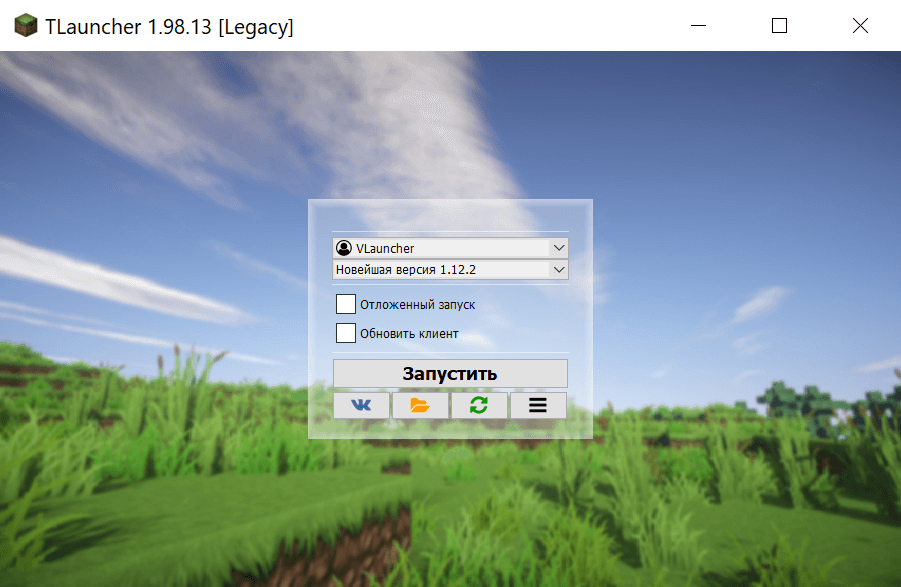 TLauncher Legacy is the most popular launcher at the moment. A record number of players use it every day. It is because with this program you can play both the pirated and licensed versions of Minecraft. But this is not the main advantage of the launcher. The main feature is its cross-platform character. You can run the program on Windows, Linux, or Mac OS. You can quickly and immediately download TLauncher Legacy for free from our website. After running it, you will see a minimalistic launch window that has everything you need to launch the game.
Here you need to select a pre-existing profile, the desired game version and click the large "Launch" button. After a few seconds, you will find yourself in the game main menu. You may also pay attention to the additional buttons. The first one, with the logo of the VKontakte social network, opens the developer's official group in the browser, where they share useful information and a list of updates with users. The second button, with the folder icon, can open and attach a third-party game client. The third one, with the green arrows, will check the integrity of the files and correct errors, if any.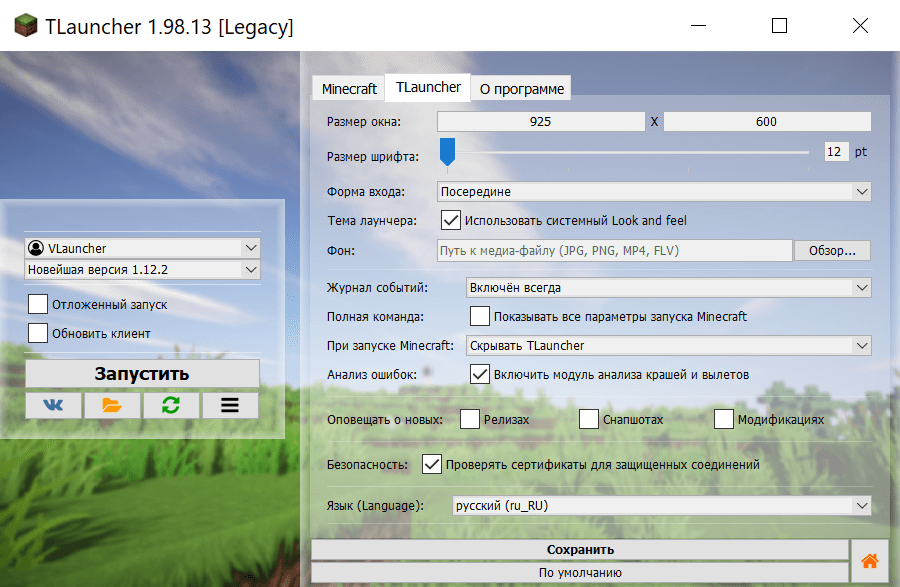 The most interesting is the fourth button that opens advanced settings. It is where all the launcher functionality is located. Here you can configure the inbuilt modifications, as well as Forge, OptiFine, and LiteLoader. You can also configure other installed mods in this section.
Legacy is a basic version that has only the most necessary features and functions, including a skin system. The developers have long released an updated version that has a much larger list of features. But if you don't need them, you can use TLauncher Legacy. To download any game version in a few minutes and launch it immediately – this is the main feature of the launcher. You also get an easy profile editor that allows you to create your own builds, as well as the support of major mods. In addition, you can install any skin from a large catalog or even create your own. The launcher itself has a small size and can be located anywhere in the file system, the main thing is to specify the game folder path.
The program is translated into: English, Ukrainian, German, Russian, Spanish, French, Italian, Polish, Portuguese, Romanian and Chinese.
(Windows)
(Linux/OS X)
Last update of the article: 28-09-2022, 08:37
0
262 074